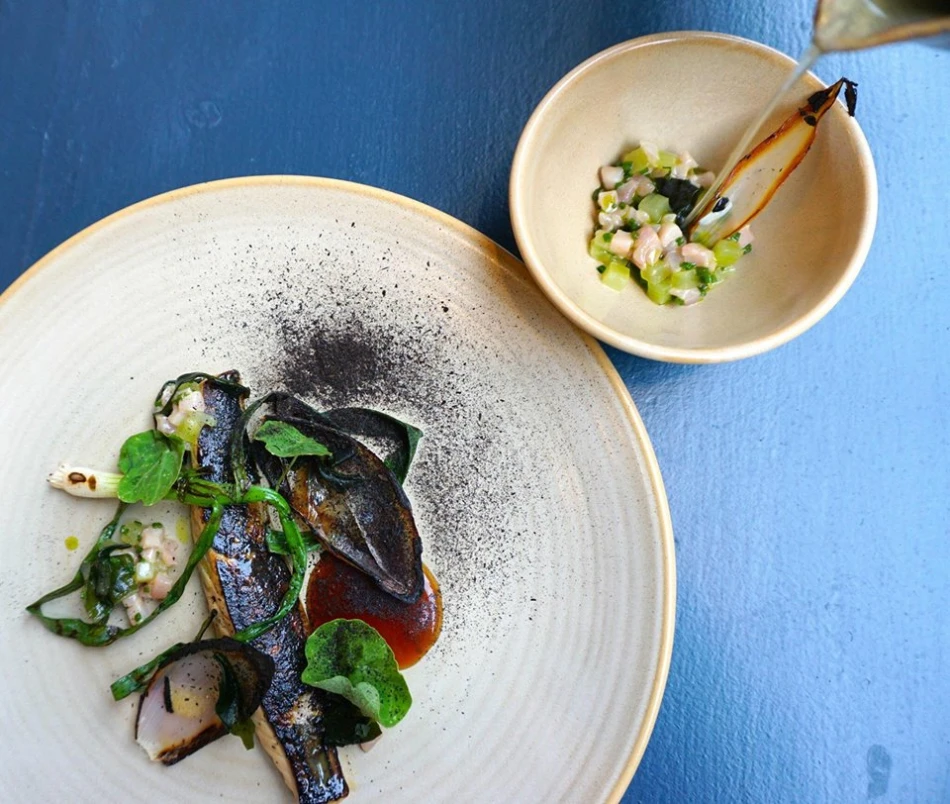 Dobson & Parnell was opened in 2016 by Andy Hook and Chef Patron Troy Terrington to push the boundaries of British & European cuisine on Newcastle's vibrant Quayside.
The 65-seat restaurant is named in honour of two of Newcastle's Victorian architectural stalwarts, John Dobson and William Parnell, who designed the original building in 1863.
The Victorian brasserie-inspired interior blends modern elegance with key Victorian features, including traditional pendant track lighting, original brickwork, cast iron columns, high ceilings, banquette seating with glass partitions, rich dark timber flooring, a brass bar top and decorative tiled counter fronts.
The restaurant is owned by Andy Hook, owner of Blackfriars Restaurant in Newcastle and Hinnies Restaurant in Whitley Bay along with head chef Troy Terrington who was previously head chef for Blackfriars and Jesmond Dene House in Newcastle.
Troy's menus change daily depending on the freshest produce he can find and he uses ethically-sourced local, seasonal produce direct from nearby farms and markets. There is a strong focus on sustainability and the kitchen team specialises in preserving techniques such as curing, smoking, salting, brining and fermenting.
The restaurant is open Wednesday-Saturday for dinner and Thursday- Sunday for lunch. You can enjoy an excellent value 3 course set menu early evening and at lunch times and a seasonal Ala Carte Menu. They serve a fantastic roast on a Sunday too.
Opening hours
Monday – Closed
Tuesday – Closed
Wednesday – Closed at lunch / Dinner: 5:30pm – 9:30pm
Thursday – Lunch: 12:00 – 2:00pm / Dinner: 5:30pm – 9:30pm
Friday – Lunch: 12:00pm – 2:00pm / Dinner: 5:30pm – 9:30pm
Saturday – 12:00pm – 2:00pm / Dinner: 5:30pm – 9:30pm
Sunday – 12:00pm – 4:00pm.
Address
21 Queen Street
Newcastle upon Tyne

Related tags
Report incorrect information