Events from NE1
Screen on the Green
NE1's much-loved open-air cinema Screen on the Green takes over Old Eldon Square each summer with sensational film screenings and sporting action.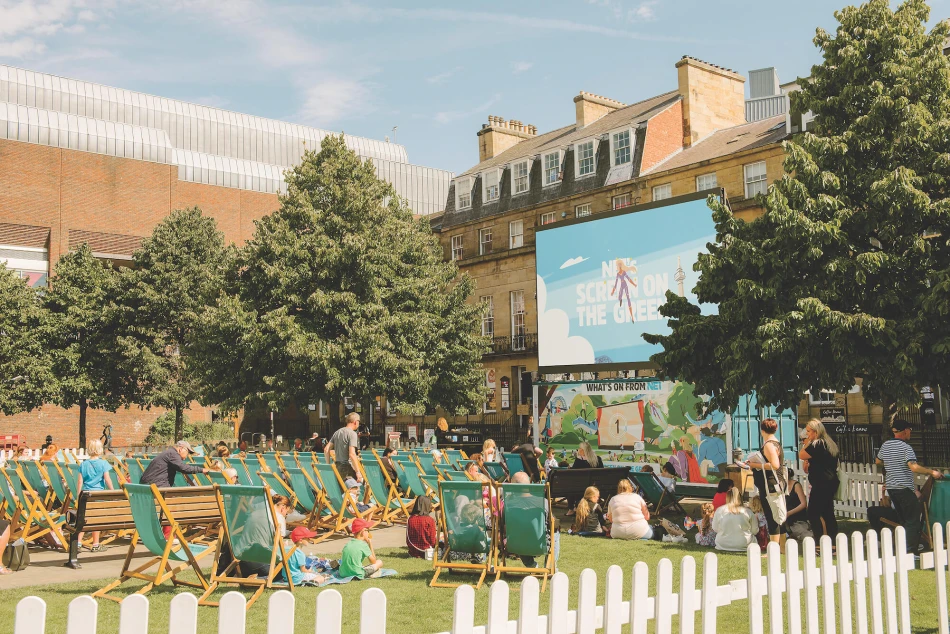 Showing two to three free films per day from late July to early September at Old Eldon Square, Screen on the Green is the perfect summer activity. Grab some popcorn or a bite to eat from a neighbouring restaurant, relax in one of NE1's iconic deckchairs and take in some top-class movies – from big blockbusters and family-friendly films to cult classics and rom-coms.
Alongside over 80 films, Screen on the Green also screens amazing live sport events including action from the FIFA Women's World Cup, Wimbledon and Tour de France.
This year, we're also introducing a brand-new addition to Screen on the Green with Toddler Takeover - screenings perfect for families with young kids.
For more information, check out the full 2023 film, sport and Toddler Takeover schedule below and stop by Screen on the Green for some fun this summer!
Address
Old Eldon Square
Percy Street
Newcastle upon Tyne
NE1 7JB

Film schedule
Please be aware, some of the films we show may be classified as 12A. These will be marked on the web schedule. A notice will also appear on the screen before these films. For more info on the 12A rating, please see below.
British Board of Film Classification: Films classified 12A and video works classified 12 contain material that is not generally suitable for children aged under 12. No one younger than 12 may see a 12A film in a cinema unless accompanied by an adult. Adults planning to take a child under 12 to view a 12A film should consider whether the film is suitable for that child. More information can be found: www.bbfc.co.uk/what-classification/12a-and-12
July

Monday 24th July
12pm Encanto
3pm Toy Story 4

Tuesday 25th July
12pm Coco
3pm Brave

Wednesday 26th July
12pm The BFG (2016)
3pm The Lego Movie

Thursday 27th July
12pm Hotel Transylvania 3: A Monster Vacation
3pm DC League of Super-Pets
6pm Top Gun: Maverick (12A)

Friday 28th July
12pm Kung Fu Panda 3
3pm Mulan (12A) (2020)

Saturday 29th July
12pm Roald Dahl's Matilda the Musical (2022)
3pm The Lost City (12A)

Sunday 30th July
12pm The Angry Birds Movie
3pm Shrek 2

Monday 31st July
12pm Aladdin (2019)
3pm Strange World
August

Tuesday 1st August
12pm The Secret Life of Pets 2
3pm The Jungle Book (2016)

Wednesday 2nd August
12pm Puss in Boots: The Last Wish
3pm The Incredibles

Thursday 3rd August
12pm Trolls: World Tour
3pm Jungle Cruise (12A)
6pm Elvis (12A)

Friday 4th August
12pm The Greatest Showman
3pm Rango

Saturday 5th August
12pm Fantastic Beasts: Secrets of Dumbledore (12A)
3pm Hook

Sunday 6th August
12pm Inside Out
3pm Instant Family (12A)

Monday 7th August
12pm Winnie the Pooh (2011)
3pm Cheaper by the Dozen 2

Tuesday 8th August
12pm Lyle, Lyle, Crocodile
3pm Home

Wednesday 9th August
12pm Madagascar
3pm Minions: The Rise of Gru

Thursday 10th August
12pm Sonic the Hedgehog 2
3pm Ralph Breaks the Internet: Wreck-It Ralph 2
6pm Black Panther: Wakanda Forever (12A)

Friday 11th August
12pm The Good Dinosaur
3pm Avatar: The Way of Water (12A)

Saturday 12th August
12pm Turning Red
3pm Doctor Strange in the Multiverse of Madness (12A)

Sunday 13th August
12pm Paddington
3pm Mamma Mia! Here We Go Again

Monday 14th August
12pm Moana
3pm Charlie and the Chocolate Factory (2005)

Tuesday 15th August
12pm A Dog's Way Home
3pm Raya and the Last Dragon

Wednesday 16th August
12pm Bolt
3pm The Railway Children Return

Thursday 17th August
12pm Peter Rabbit
3pm Dora and the Lost City of Gold
6pm Ant-Man and the Wasp: Quantumania (12A)

Friday 18th August
12pm Shazam: Fury of the Gods
3pm Planes

Saturday 19th August
12pm Beauty and the Beast (2017)
3pm Cruella (12A)

Sunday 20th August
12pm *FIFA Women's World Cup Final*
3pm Lightyear

Monday 21st August
12pm Sing 2
3pm Monsters, Inc

Tuesday 22nd August
12pm Maya the Bee 3: The Golden Orb
3pm Soul

Wednesday 23rd August
12pm Shaun the Sheep: Farmageddon
3pm How to Train Your Dragon: The Hidden World

Thursday 24th August
12pm Cloudy with a Chance of Meatballs 2
3pm Ice Age: Collision Course
6pm Jurassic World: Dominion (12A)

Friday 25th August
12pm Dolittle
3pm Maleficent

Saturday 26th August
12pm Mary Poppins Returns
3pm Epic Tails

Sunday 27th August
12pm Finding Dory
3pm Hocus Pocus

Monday 28th August
12pm Happy Feet
3pm Dr Seuss' The Lorax
6pm The Fabelmans (12A)

Tuesday 29th August
12pm Show Dogs
3pm Ron's Gone Wrong

Wednesday 30th August
12pm Chicken Run
3pm Tangled

Thursday 31st August
12pm Luca
3pm The Witches (2020)
6pm Dungeons & Dragons: Honour Among Thieves (12A)
September

Friday 1st September
12pm Pokemon: Detective Pikachu
3pm Oliver

Saturday 2nd September
12pm Pinocchio (2019)
3pm Respect (12A)

Sunday 3rd September
12pm The SpongeBob Movie: Out of Water
3pm The Lion King (2019)
Toddler Takeover
A brand-new addition to NE1's Screen on the Green programme, Toddler Takeover takes place at 10:30am on Tuesdays from late July through August with screenings of BBC adaptations of popular books by children's writer Julia Donaldson.
There'll be storytelling sessions from Seven Stories too alongside picnic blankets to get comfy on and juice cartons for the kids - it's perfect for keeping little ones entertained all summer long!
July

Tuesday 25th July
10:30am The Gruffalo
August

Tuesday 1st August
10:30am Zog

Tuesday 8th August
10:30am Stick Man

Tuesday 15th August
10:30am The Snail and the Whale

Tuesday 22nd August
10:30am Room on the Broom

Tuesday 29th August
10:30am Gruffalo's Child
Summer sport schedule
Are you ready to settle in for a summer of sensational sporting screenings, from the best international action throughout July? There will be plenty of basking in the sun as we watch all the drama unfold across Wimbledon, the Tour de France, and the FIFA Women's World Cup!
July

Tuesday 4th July
12pm – 6pm Wimbledon

Wednesday 5th July
12pm – 6pm Wimbledon

Thursday 6th July
12pm – 6pm Wimbledon

Friday 7th July
12pm – 6pm Wimbledon

Saturday 8th July
12pm – 6pm Wimbledon

Sunday 9th July
12pm – 6pm Wimbledon

Monday 10th July
12pm – 6pm Wimbledon

Tuesday 11th July
12pm – 6pm Wimbledon

Wednesday 12th July
12pm – 6pm Wimbledon

Thursday 13th July
12pm – 6pm Wimbledon

Friday 14th July
12pm – 6pm Wimbledon

Saturday 15th July
12pm – 6pm Wimbledon

Sunday 16th July
12pm – 6pm Wimbledon

Monday 17th July
*No sport - Tour de France rest day*

Tuesday 18th July
1:05pm – 5:30pm Tour de France

Wednesday 19th July
12:20pm – 5pm Tour de France

Thursday 20th July
1:05pm – 5:30pm Tour de France

Friday 21st July
1:15pm – 5pm Tour de France

Saturday 22nd July
1:30pm – 5pm Tour de France

Sunday 23rd July
4:30pm – 6pm Tour de France
August

Sunday 20th August
10:30am - 1pm FIFA Women's World Cup Final - England vs Spain