News
Northern Lights Unveils Full Trail Map, Sneak Peaks at What's in Store, Plus Christmas Village Delights!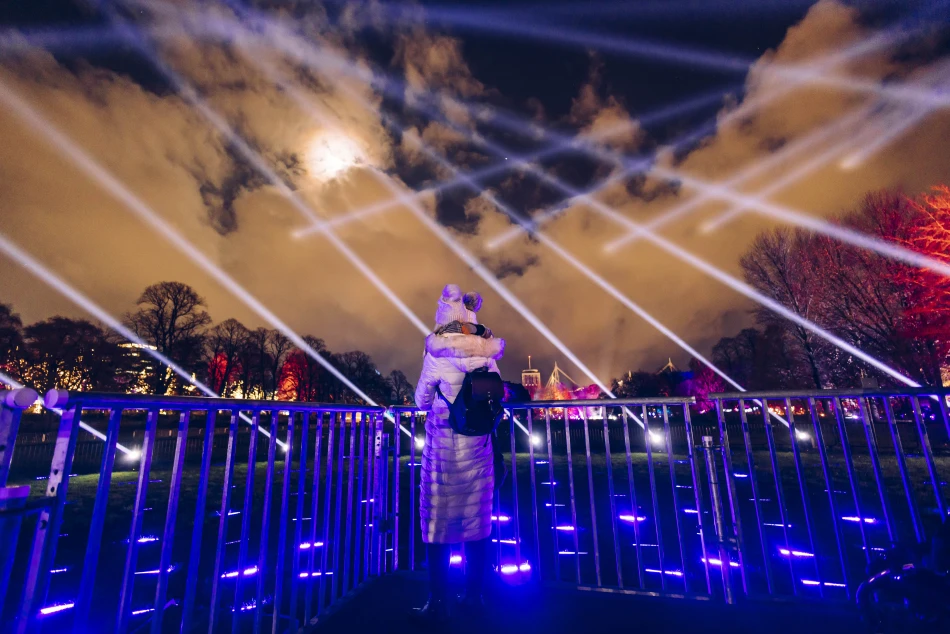 Northern Lights is a brand NEW magical Christmas light trail coming to Newcastle's city centre later this month. The event has just released its full-light trail map, plus some exclusive preview images of what guests can expect to see and experience while visiting.
Prepare to be amazed by the magic of the festive season as Northern Lights takes centre stage at Leazes Park, with a showcase of world-class installations, a stunning lakeside spectacle, vintage fairground rides and a bustling Christmas Village featuring local food traders, all fully accessible to buggies, prams and wheelchairs.
Just a short walk from the city's bustling nightlife, restaurants and amenities, Northern Lights will display 14 different immersive illuminations across the heritage park, in a captivating journey through an array of enchanting zones.
Experiences on offer at this brand-new event include:
Aurora Rising: Aurora Rising is a truly novel concept that is sure to leave you in awe. Hundreds of floating balls grace the surface of the lake in the heart of the park, each one individually controlled and meticulously synchronised to the rhythm of the accompanying music. This installation promises to be a visual and auditory feast, capturing the essence of awe & magic at Northern Lights.
The Laser Garden: As you step into the mesmerising world of the Laser Garden, you will find yourself surrounded by thousands of brilliant green laser beams that gracefully pierce through the dense haze. These radiant beams create a captivating dance of lights, turning the entire garden into an enchanted visual spectacle. This installation is a testament to the power of light and creativity, inviting you to lose yourself in its intricate patterns and luminous beauty.
Luminary Lane: Among the remarkable installations at Northern Lights, the Luminary Lane stands as one of the most heart-touching experiences. This immersive journey transports you through a world of beautiful projections, each featuring imagery creatively designed by young patients at the Royal Victoria Infirmary Children's Ward. As you embark on this enchanting walk, the pathway becomes a canvas of colours and shapes, breathing life into the stories and artwork created by the children. Working collaboratively with the Newcastle Upon Tyne NHS Hospitals Foundation Trust, every step you take is a step into their creative and imaginative universe, allowing their voices to shine through the illuminating display.
Northern Lights has also announced its delectable choice of local food vendors who will be located within the enchanting Christmas Village. From mouth-watering wood-fired pizzas to gourmet burgers and a wide variety of scrumptious treats, the charming Christmas village is set to offer an exceptional food and beverage experience for all to enjoy.
Among the featured vendors are local favourites Fat Hippo, Acropolis Greek, Truly Madly Pizza, Twisted Chicken, Mac & Cheese, Doughvine Desserts, Tribe Coffee, and Urban Green Coffee. Excited to bring their culinary tastes to the Christmas Village, the local businesses will help transform guests' visits into a complete festive experience, where the magic of Christmas comes to life through not just a visual spectacle but a flavour-filled destination. Legendary purveyors of super-indulgent burgers, Fat Hippo shared their enthusiasm, stating, "We are really excited to be supporting this brilliant event, a truly magical experience in the heart of the city, creating the perfect backdrop to enjoy our burgers."
Truly Madly Pizza also expressed their excitement saying, "We at Truly Madly Pizza are proud to be a part of the magical Northern Lights event. We look forward to serving our tasty wood-fired pizzas to the many families celebrating over the Christmas period."
So, be sure to arrive with an appetite and relish the flavours of the season while creating cherished memories under the enchanting lights at Northern Lights Newcastle.
As the countdown to the opening of Northern Lights draws closer, the anticipation is building for a truly magical experience, with the last few tickets remaining. With just over three weeks until opening night, families, friends, and everyone eager to embrace the festive spirit are in for an amazing, enchanting treat like never before. The light trail promises an immersive journey through captivating installations on a scale like the multi-award-winning Kendal Calling, Bluedot and Christmas at Bute Park.
Visitors will also be able to enjoy vintage fairground rides to add an extra touch of nostalgia and excitement to the light trail experience, and as you wander through the enchanting setting, you will have the opportunity to savour a variety of festive treats, including the warmth of mulled wine, hot chocolate, and toasted marshmallows.
Tickets for the magical experience are still available, but time slots are selling fast. To avoid disappointment, secure your tickets now at: https://northernlightsnewcastle.com
Website/Tickets: www.northernlightsnewcastle.com
Instagram: @northernlightsnewcastle
Facebook: Northern Lights Newcastle
Twitter: @lightsnewcastle
Address: Leazes Park, Newcastle
Opening Dates: 23rd November 2023 – 1st January 2024
Back to News