News
Fenwick Reveals Its 2023 Christmas Window Celebrating the Chronicles of Narnia: The Lion, the Witch and the Wardrobe by C.S. Lewis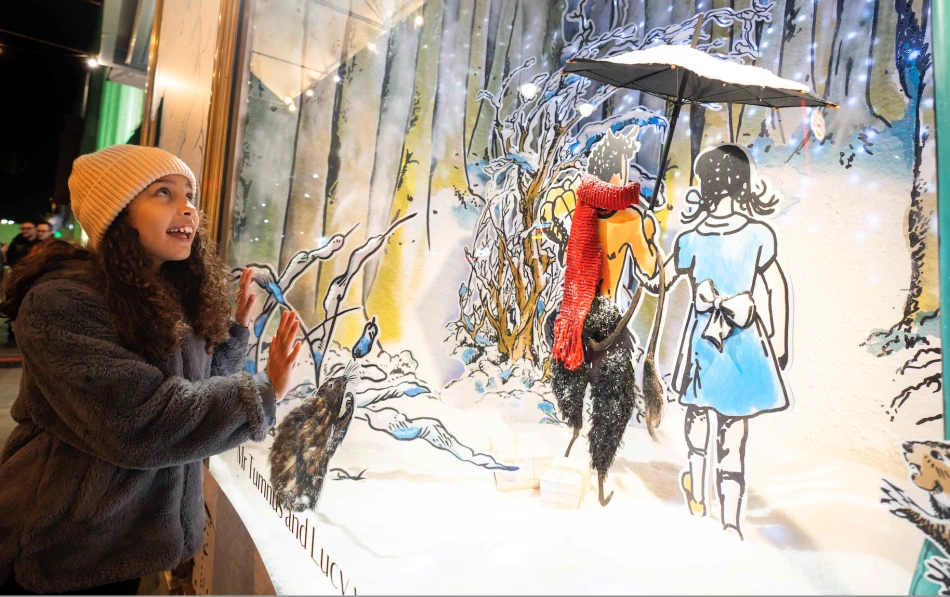 Fenwick has revealed its much-anticipated Newcastle Christmas window theme The Chronicles of Narnia, The Lion, the Witch and the Wardrobe by C.S. Lewis, depicting the beloved tale of four curious children discovering the magical world of Narnia.
This year's Christmas window sees Peter, Susan, Edmund, and Lucy step through the magical wardrobe and embark on a fantastical adventure with Aslan and Mr. Tumnus, where they navigate the land of eternal winter which has been enchanted by the White Witch.
The fantastical world of Narnia was unveiled in front of children and families from Fenwick's partner schools, hospitals, and charities, as well as competition winners on Sunday evening.
Mia Fenwick, Chief Marketing Officer at Fenwick said: "Our Christmas windows are a celebration of the importance of storytelling. We are thrilled to celebrate the joy of reading once again, by bringing the classic Chronicles of Narnia to Newcastle and to viewers tuning in from our global Fenwick community. The Chronicles of Narnia fantasy series, imagined by C.S. Lewis, brings together readers of all ages, inviting them into an enchanted land filled with mesmerising characters who teach us all about courage, kindness, family, and the thrill of adventure."
The window display showcases the twists and turns of the popular fantasy novel, published by HarperCollins, including Edmund's dramatic capture by the White Witch and the siblings' dangerous quest to free their brother from the queen's icy grasp.
On their quest, they meet Father Christmas who gives them each a gift to help rescue Edmund: "These are your presents, and they are tools, not toys. The time to use them is perhaps near at hand. Bear them well." The display concludes with a grand celebration as Aslan thaws the White Witch and Christmas is restored at last after 100 years. 
Head of Creative, Paul Baptiste said: "We are really excited this year to create and share the story of The Lion, the Witch, and the Wardrobe. It's been a joy to explore the fantastical world containing such amazing characters, wonderful scenery, and incredible storytelling to create a window to remember, featuring a few special surprises."
This year Fenwick has once again teamed up with The Glasshouse International Centre for Music, to provide a specially created soundtrack for the festive window. The music was carefully arranged by Newcastle-based conductor, Tim Burke and performed by The Glasshouse community choir, Voices of the River's Edge, and orchestra Royal Northern Sinfonia.
Abigail Pogson, Managing Director of The Glasshouse International Centre for Music, said: "We're so proud to be making the music again this year for Fenwick's Christmas window to add that extra bit of festive sparkle. The window is a real North East institution and it seems only fitting that the music was made right here by local musicians."
"We carefully created the music to fit with the window's wintry, whimsical theme. And what makes this year even more special is that it has brought together our community choir of young people, Voices of the River's Edge, with our world-class professional orchestra, Royal Northern Sinfonia. Because that's what we're all about, bringing people who are passionate about music together."
"Fenwick's Christmas window is always a real collective coming together for the region and we're delighted once again to be a part of it."
Re-watch the magical moment now on Fenwick's Official YouTube channel and bring the enchanted tale of Narnia home with a limited-edition version of the book which is available to purchase in-store and online.
As part of this year's window reveal Fenwick are once again partnering with North East charity Seven Stories – The National Centre for Children's Books. Seven Stories will produce a 45-minute performance for children from seven local schools based on characters from The Lion, The Witch and The Wardrobe. All children in attendance will receive a complimentary copy of the limited-edition book.
In addition, Seven Stories will be running a competition in celebration of this year's window theme. Children are invited to write a fictional story focused on celebrating wintertime with loved ones. Entrant's stories must be 250 words or less and include at least three words for a set list with prizes to be won. Find out more at https://www.sevenstories.org.uk/
"Seven Stories are thrilled to be hosting our very own, magical interpretation of this classical story. Brought to life for regional children to enjoy in our beautiful building at Winter." Wendy Elliott, Chief Executive at Seven Stories.
The windows can be viewed from Monday 6 November through to early January 2024.
Back to News