News
Best Friends Who Met in the Grainger Market Set to Open Their Own Clothing Store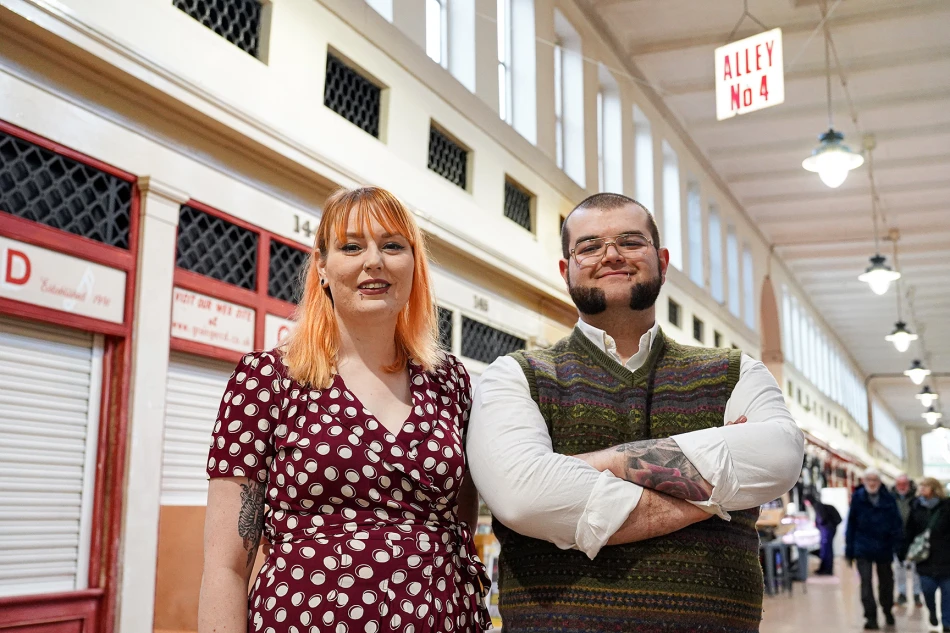 Best friends, who met working at Scorpio Shoes, are set to open their own clothing store in the Grainger Market.
Jenn Gray and Adam Gordon, owners of Tender Hooligan, are set to open their first store in November.
Tender Hooligan is a sustainable and vintage clothing shop which started back in 2022. Specialising in British subculture and pre-loved vintage, the pair aim to bring a new lease of life back into clothing that would otherwise end up in landfill or get lost in the back of a wardrobe.
The pair met five years ago, when Adam started working with Jenn at Scorpio Shoes. Quickly, they bonded over their passion for retail, vintage clothing and British subculture fashion.
In 2022, their dream became a reality as Tender Hooligan launched. Quickly it became a permanent fixture of the Tynemouth Markets and built a loyal customer base.
Speaking about taking the next step and opening in the Grainger Market, Adam said: "It's always been a goal of ours to open our own shop.
"There's a charm about the Grainger Market that you don't find anywhere else. It really is a fascinating place. It is home to so many amazing businesses that we've really got to know as being part of that community."
Jenn added: "After 11 years of working at the Grainger Market in Scorpio Shoes, it really is like home. When Scorpion Shoes closed, we both really missed not being here every day.
"Don't get me wrong we did have a look at the idea of opening the shop in another location but really it was always meant to be the Grainger Market. It's like a little family that we're already part of.
"And there is a massive variety here. The Grainger Market has a fantastic customer base. People visit the market from all walks of life, and you get customers of all ages. In one day, you can serve 100 types of people and there really is nowhere else like that."
Tender Hooligan will be located on Alley 4 and will sell a wide range of clothing, shoes and accessories.
Speaking about opening, Jenn said: "Opening our own shop happened much quicker than what we expected. Without having that comfort and having more time to explore the opportunities we had, we just thought 'let's do this'.
"The closure of Scorpio Shoes did push us, but in a good way. It gave us the ability to do this and run with our idea."
Adam added: "We got a lot of support from Newcastle City Council. We already had a connection there after working in the market for so long, and we're really grateful that they've been fighting our corner.
"When we approached them about opening Tender Hooligan they did everything they could to get us in a good unit and be able to open as soon as possible."
Cllr Alex Hay, Cabinet member for a Thriving City at Newcastle City Council, said: "I am always delighted to hear of new, independent businesses setting up in Newcastle, and even more so when they receive invaluable support from council colleagues to do this.
"What makes this story even better is that they have decided to set up in the Grainger Market, the beating heart of our city centre, after many years working there and appreciating all that it has to offer.
"We are committed to nurturing entrepreneurs, encouraging growth and making Newcastle a place where all businesses flourish, and I would like to wish Jenn and Adam every success in the future."
Adam and Jenn are now working around the clock to get their new unit set up for opening in November. The shop will be located in unit 143/144 on Alley 4.
Image: Jenn Gray and Adam Gordon, owners of Tender Hooligan
Back to News