News
Stunning Drama Roars into Newcastle Theatre Royal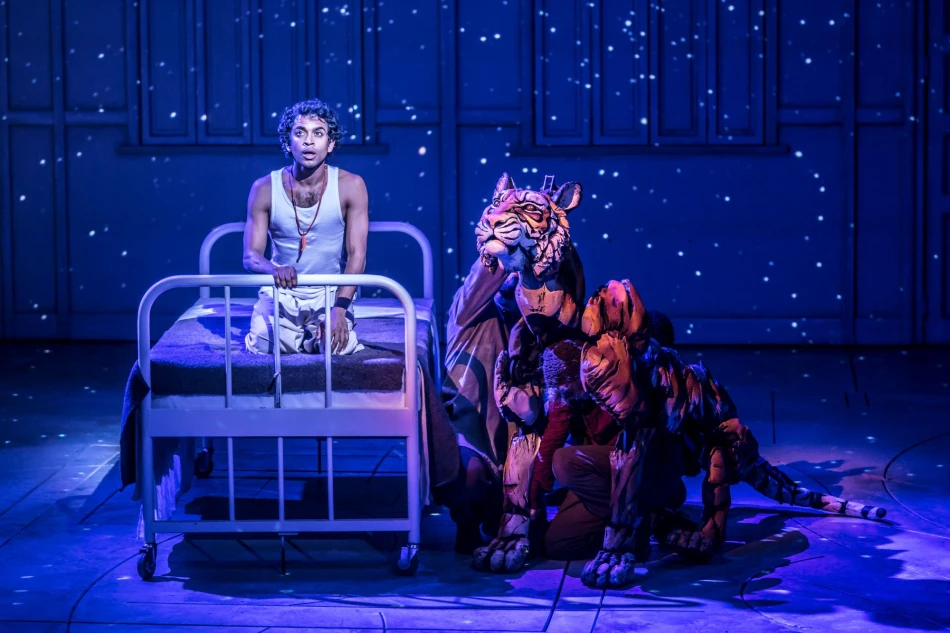 Lolita Chakrabarti's dazzling Olivier Award winning stage adaption of Yann Martel's best-selling novel Life of Pi - which stars an extraordinary life-size puppeteered Bengal Tiger – is set to delight Newcastle Theatre Royal audiences (Tue 23 Jan – Sat 27 Jan 2024) as part of its first ever UK tour.
Based on one of the best-loved works of fiction – winner of the Man Booker Prize, selling over fifteen million copies worldwide – Life of Pi is a breath-taking new theatrical adaptation of an epic journey of endurance and hope.
Divesh Subaskaran will make his professional debut in the central role of Pi. He is joined by Antony Antunes, who performs as Tiger Hind/Cook/Father Martin, Adwitha Arumugam as Pi Alternate, Bhawna Bhawsar as Lulu Chen/Mrs Biology Kumar, Ralph Birtwell as Mamaji/ Admiral Balbir Singh, Kriss Dosanjh as Father, Sebastian Goffin as Tiger Head, Akash Heer as Tiger Head, Romina Hytten as Tiger Heart and Hind, Katie Kennedy-Rose as Tiger Heart and Hind, Aizah Khan as Tiger Heart and Hind, Chand Martinez as Pandit-ji, Keshini Misha as Rani, Goldy Notay as Amma, Sharita Oomeer as Lulu Chen / Mrs Biology Kumar, Kate Rowsell as Tiger Heart and Hind, Lilian Tsang as Mrs Okamoto/Zaida Khan/Ship's Captain and Peter Twose as Tiger Head/Voice of Richard Parker/Cook/Father Martin
After a cargo ship sinks in the middle of the vast Pacific Ocean, there are five survivors stranded on a single lifeboat – a hyena, a zebra, an orang-utan, a sixteen year-old boy and a 450-pound Royal Bengal tiger. Time is against them, nature is harsh, who will survive?
Last year, Life of Pi won five Olivier Awards. As well as Best New Play, and Best Actor for Hiran Abeysekera (the original Pi); in an historic first for the Olivier Awards - the seven performers who puppeteer the Tiger 'Richard Parker' were collectively awarded Best Actor in a Supporting Role. The production also picked up awards for set (Tim Hatley, Nick Barnes and Finn Caldwell), and lighting design (Tim Lutkin and Andrzej Goulding).
The production is directed by Max Webster, Set and Costume Designer is Tim Hatley, the Puppet Designers are Nick Barnes and Finn Caldwell, the Puppet and Movement Director is Finn Caldwell, the Video Designer is Andrzej Goulding, the Lighting Designer is Tim Lutkin, the Sound Designer is Carolyn Downing, the Composer is Andrew T Mackay, Dramaturgy is by Jack Bradley, the Casting Director is Polly Jerrold, the Associate Director is Leigh Toney, the Associate Puppetry and Movement Director is Scarlet Wilderink, the Associate Set Designer is Ross Edwards, the Associate Puppet Designer is Caroline Bowman, the Costume Supervisor is Sabrina Cuniberto and the Props Supervisor is Ryan O'Conner.
Life of Pi is produced by Simon Friend in association with Playing Field and Tulchin/Bartner.
Life of Pi plays at Newcastle Theatre Royal from Tue 23 Jan – Sat 27 Jan 2024. Tickets can be purchased at www.theatreroyal.co.uk or from the Theatre Royal Box Office on 0191 232 7010.
Image: Hiran Abeysekera (Pi) and Richard Parker the Tiger in Life of Pi. Photo by Johan Persson
Back to News