News
International Street Artist Paints the Town Pink, Blue and White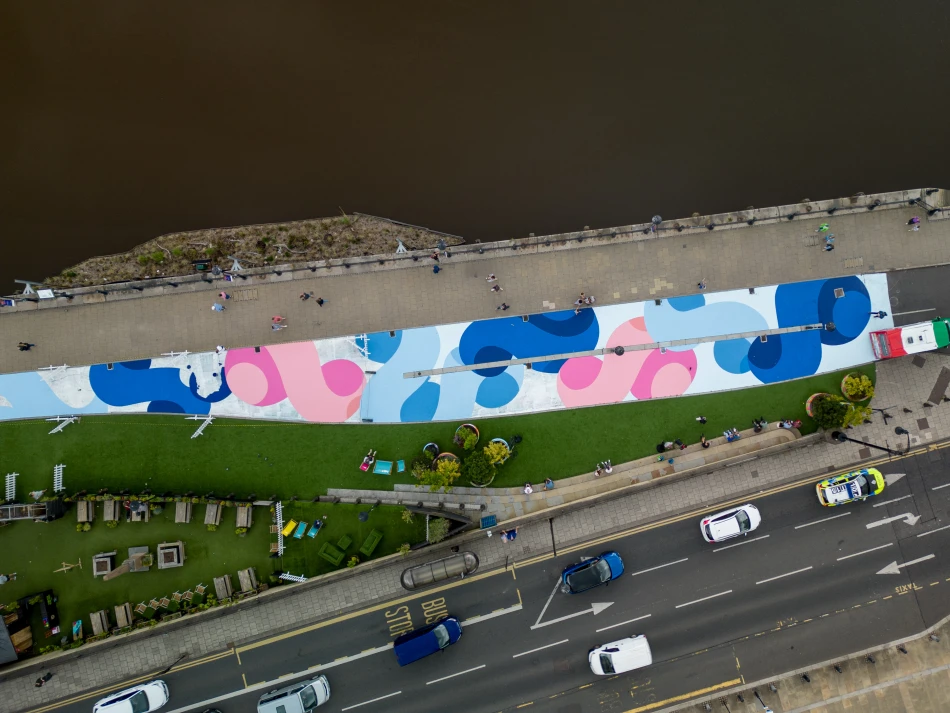 90 metres of pavement on Wesley Square on the Quayside has been transformed into a huge work of art, thanks to another new artistic commission by NE1 and Newcastle City Council. Dutch street artist, OFLINES, was commissioned to work his magic transforming the former bus lane into an abstract work of art in pink, blue and white in time for NE1's Summer in the City events programme, and the start of the school summer holidays.
This is the second year that NE1 has installed a stunning mural on the banks of the Tyne, to create a vibrant and sizeable new artwork on the Quayside. The public are encouraged to visit and enjoy the colourful new installation designed in OFLINES' signature abstract typographical style, which is heavily influenced by street art and the graffiti movement. The artwork has the slogan, 'Dream Bigger' hidden within the artist's cryptic letterform painting.
NE1 was pleased to work with Newcastle City Council to commission the artwork again this year, which still boasts the record as being the biggest piece of pavement art in Newcastle, and to NE1's knowledge, the whole of the UK.
The installation is part of NE1's ongoing collaboration with Newcastle City Council to bring more public art to the city.
Designed to be hard wearing, the piece will withstand heavy footfall with people driving and walking on it, as well as coping with the rigours of the weekly Quayside Sunday Market.
Ben Whitfield, Director of Communications at NE1 Ltd said:
"It's fantastic to once again transform this former bus lane into a huge, linear work of art encouraging people to consider their surroundings in an entirely different way, and adding extra vibrancy to Newcastle's iconic Quayside, as well as creating a new photo opportunity for this iconic location.
"Mul's mural was so well received last year that we were keen to refresh the location and change the environment in time for the public to enjoy the new installation this summer. We are delighted with the result and hope people will enjoy the artwork over the coming months.
"Our aim as ever with this work, and with our wider Summer in the City events programme, is to celebrate the city and the Quayside in particular, which will be at the heart of a vibrant events programme throughout the next six weeks."
Councillor Alex Hay, Cabinet Member for a Thriving City at Newcastle City Council said:
"We are delighted to be partnering with NE1 again this year to bring public art to the pavements of the city, making art and culture extremely accessible for everyone to enjoy in Newcastle. Having such a dramatic location and huge expanse for OFLINES to create this amazing artwork is both exciting and, we hope, inspirational for everyone who sees it."
Danny Hughes, Curator at Unit44 Gallery said:
"We work to bring fresh and exciting artists to the North East and having seen OFLINES work on canvas, products, and ceramics we were eager to see what he could do with something on this scale. We knew the work would translate beautifully and be something truly original for the city. We couldn't be happier with the result. It is amazing to see the piece come to life. It looks so different depending on where and how you view it – whether from street level, from a deck chair, from the Tyne Bridge, or coming into the city on the train. It is impossible to miss this huge injection of letterform and colour. This is accessible art at its finest, leaving all the interpretation in the hands, or the eye of the beholder."
Image: 'DREAM BIGGER' BY VISUAL ARTIST OFLINES, Wesley Square, Newcastle Quayside. Commissioned by NE1 with support of Newcastle City Council, Curated by UNIT44
Back to News