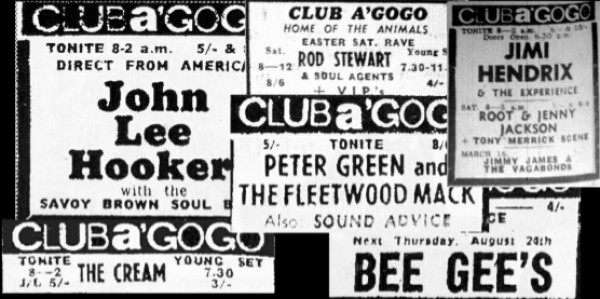 Club aGoGo - Percy Street
Owned by Jimi Hendrix's manager Mike Jeffery and with The Animals as the resident band, the Club aGoGo was one of the hippest clubs in the country. It was part of 'Newcastle's Carnaby Street', the Handyside Arcade, with a branch of local Mod-outfitters Marcus Price next door. After parking their scooters and negotiating the doorman and his ferocious dogs, the immaculately dressed punters could tap their toes to sets by the likes of the Rolling Stones, The Who, Pink Floyd and Wilson Pickett, in a tiny room for the price of a couple of pints.
What a time to be alive in Newcastle. You might bump into Hendrix enjoying his chip stotty outside the Barbecue Express, Keith Richards scouring Jesmond for Rizlas after parties at Jeffery's home, or Bob Dylan trying on clothes at Marcus Price. They say that if you can remember the Sixties then you weren't there, but the Club aGoGo would have had to have been the size of St James' Park to accommodate everyone who clearly recalls seeing Jimi's gig there in 1967. The club closed a couple of years later, ending an era the like of which Newcastle will never see again.